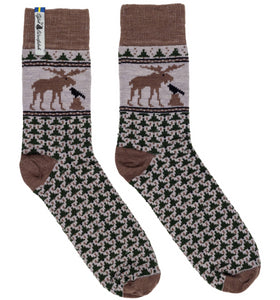 Imported from Sweden, Ojbro Vantfabrik socks 
combine the rich traditions of Scandinavian knitting and folk art to create patterns that tell a fascinating story about the rustic charms of Nordic life and history. Beyond their attractive looks,  Ojbro's mittens and socks are some of the softest and warmest you will find. 
This pattern is inspired by the everyman's right, a Swedish symbol here depicted by the king of the forest in dialogue with the raven. All our patterns are inspired by and colored in nature's own colors.
SIZES (US/Canada)

Small ~ Women's sizes 4.5 - 6.5 or Men's size 4

Medium ~ Women's sizes 7.5 - 10 or Men's sizes 6-8

Large ~ Women's sizes 10.5 - 12 or Men's sizes 8.5 - 11.5
80% Merino Wool 15% Polyester 5% Lycra

Imported from Sweden

Beautifully designed Merino wool boot socks by artist Åse Öjbro

Each pattern is inspired by Swedish folk art and tells a story about the rustic charms of Nordic life